Assembly Assist
By Beeline Connect
24 Months Warranty
Hassle-Free
Product Highlights
750W 80Nm Motor
350 lbs Max Load
26"*4.0" Fat Tire
Aluminium Alloy Frame
Shimano 7 Speed Derailleur
Dirwin Seeker was built for Adventures and it shows. Absolutely everything in it is ready for anything you might face on your way. The Frame is built with great maneuvering in mind and it's made of 6061 Aluminium Alloy that offers superior resistance. Traction is provided by excellent 26"x4" Wearproof fat Tires and your ride will be smooth thanks to the Hydraulic Suspension Fork.
The Seeker motor is 750W and when it's time to stop the 180mm Hydraulic Brakes are always up to the task.
Dirwin Seeker's Clear 3.5" TFT Display has great visibility in all kinds of conditions and it features all the information you need such as Speed, Odometer, Battery Charge level, and more.
Dirwin Seeker is equipped with a High Capacity 48V 16Ah Lithium Battery that provides you with exceptionally long-range. The Battery is also Removable so Extended tours lasting for days are no longer a problem. Take your time and Enjoy your Adventure!
HIGH PERFORMANCE MOTOR
750Watt 80Nm
Sand, gravel, snow... Conquer All-Terrains with Dirwin Seeker's High Performance 750 Watt Rear-drive Motor which delivers All the Power you need. Its 80Nm Torque won't leave you stranded and you have absolute control of the Power Delivery with Shimano's 7-speed Altus Gears and 5-Levels of Pedal Assistance.
Bright 48V LED Headlight
Rain or Shine the Powerful and Bright Headlight keeps you on the right track in the most challenging conditions.
Wearproof 26"*4.0" Fat Tires
These Tires are Durable and Designed to take on any Road. You can rest assured that you will have the traction you need in any situation.
Adjustable Handlebar with Easy-to-use Controls
The Handlebar features all the controls for the gear and power assistance system (PAS) that you need. Including the assistance level control, display, half-twist throttle, and Shimano Gear Shift lever. It's even fitted with a nice bike bell!
Shimano 7-Speed Gear System
Dirwin uses only the highest quality Shimano gear systems that give you the reliability and adjustability that you need. In combination with the motor, you can easily set how fast or heavy you want to pedal.
Comfortable Saddle
An easily adjustable Saddle combined with the adjustable Handlebar will make sure that anyone can find a Safe and Comfortable riding position.
Hydraulic Brakes
In tough terrain and fast speeds, you need to be able to trust your brakes. That is why we fitted the bike with powerful 180mm Hydraulic Brakes that provide you with great stopping power whenever you need it.
Electric Rear light
Safety first. Not only the headlight but the rear too has a powered 48V LED light that will keep you visible in the dark and bad weather.
High-Quality Crankset
The durable aluminum crankset is built and adjusted perfectly with the Shimano gearset to protect the chain and decrease friction thus delivering an optimal pedaling experience.
Battery 48V 16Ah Lithium Battery
Motor 750 Watts
Bike Frame A6061 Aluminium Alloy
Display 3.5" TFT Color Display
Brakes 180mm Hydraulic
Derailleur 7-Speed Shimano Altus
Freewheel Shimano 7-Speed
Fat Tire 4.0"*26" Wearproof
Shifter Shimano 7S
Front Fork Deadlock Hydraulic Suspension Fork
Charger US-Standard 2A Smart Charger
Range 35-60+ Miles
Pedal Assist Intelligent 5-Level
Throttle Half Twist
Saddle HQ-Comfort Saddle
Charging Time 5-8 Hours
Product Weight 74.9 lbs
Total Payload Capacity 350 lbs
Controller 48V 22A
Chain Ring 46T
HandelBar Φ22.2*700L
Seat Post Φ30.4*300L
Seat Post Clamp Φ35.0
Recommended Rider Height 5.3"-6.4"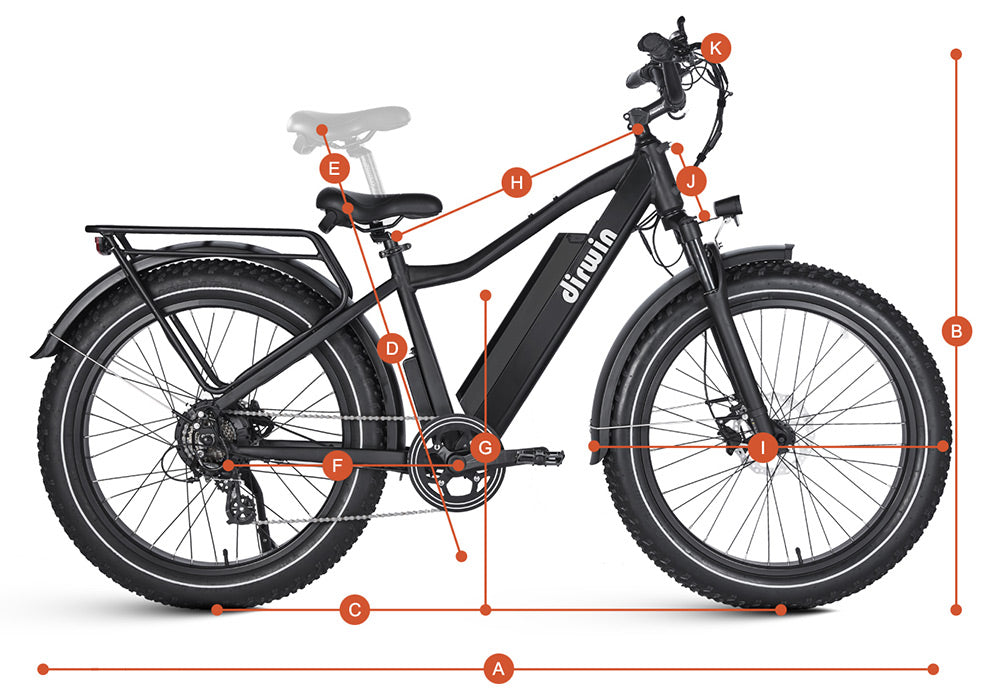 A. Total Length 74.8"
B. Handlebar Height 45.5"
C. Wheelbase 45"
D. Minimum Seat Height 30"
E. Maximum Seat Height 35.5"
F. Chain Stay Length 20"
G. Standover Height 29.5"
H. Top Tube Length 23"
I. Wheel Diameter 29"
J. Head Tube Length 6"
K. HandelBar Length 27.5"
---